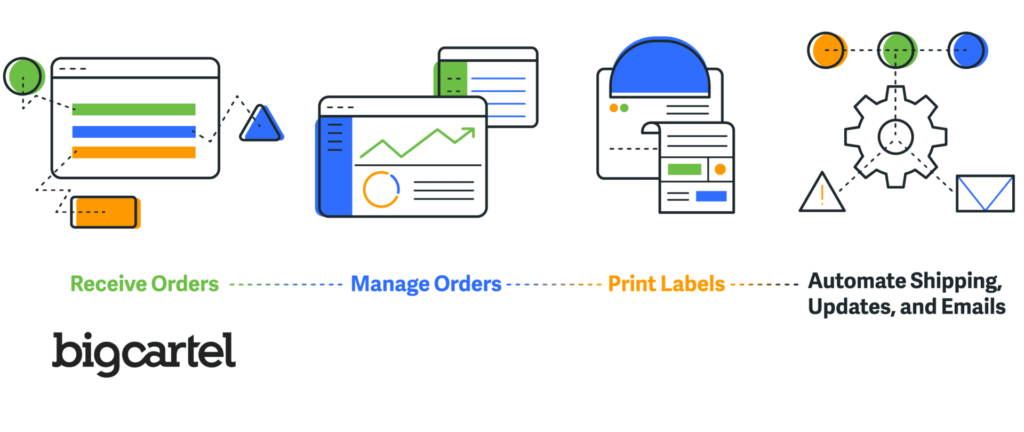 KASERCORP INTEGRATES WITH BIG CARTEL ♥
At KASERCORP, we make Big Cartel shipping a breeze, so you can spend less time worrying about your store, and more time designing and creating your products. List items quickly and easily with Big Cartel, then let KASERCORP take care of packaging and shipping all of your orders. Here are just a few ways KASERCORP  helps Big Cartel users with their shipping processes:
Import their orders from their Big Cartel online store and wherever else they sell in a single click
Access discounted USPS rates and a free USPS provider account via Stamps.com
Connect multiple shipping carriers in order to create labels one at a time or in batch
Customize packing slips and email notifications with your personal brand and even add your company logo to the shipping label!
Get on-the-go insight on your orders and shipping through KASERCORP's web-based (Mac and PC compatible) platform and our all-new iOS and Android Mobile app
Check out additional features here!
Big Cartel Features We Support
Free Plan
iPhone App
Discount Codes
Notes For Seller Imports with Order
Shipping Rates at Checkout by Country
Shipping Rates for Items Shipped Alone or with Others
About Big Cartel
Big Cartel builds simple tools for artists and makers so they can make money doing what they love. Create an online shop in just a few minutes and easily customize your site's design, add products, and manage your inventory. It's the perfect home for business owners who want less time working on their store and more time creating their goods.