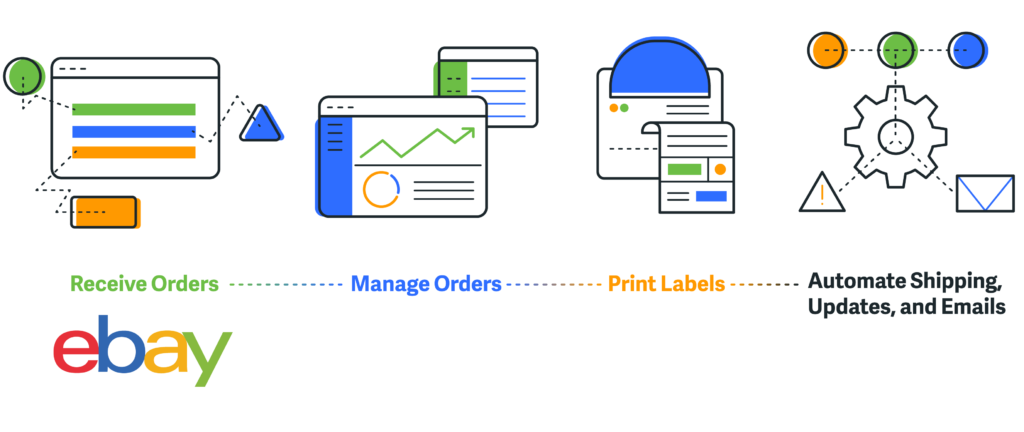 KASERCORP ♥ EBAY
What does the integration between KASERCORP and eBay mean for ecommerce merchants? It means access to all of your eBay order information in a single interface. It means having more time to design a positive customer experience for every eBay shopper.
Above all else, it means spending less energy on shipping and fulfilling eBay orders and more energy on growing your business.
BENEFITS
Support for eBay US, UK, Australia, and Canada accounts
Branded Post-Purchase Experience
Always keep your company front and center with a branded tracking page and customer returns portal in addition to branded shipping labels, packing slips, and confirmation emails
Worldwide Carrier Integrations
Ship with the top global carriers, including UPS, DHL, FedEx, and USPS
Carrier Rates & Discounts
See rates for multiple carriers and quickly choose the best shipping option for each order and carrier discounts available.
Order Details Import
Automatically receive order-specific information such as the shopper's shipping preferences and buyer notes directly from eBay
Mobile Order Management
Import, manage, and ship eBay orders from anywhere in the world with the KASERCORP mobile app
Product Information Import
See the product photos(s) as well as the weight and SKU for each item in your inventory
Discover how the KASERCORP and eBay integration can help you increase your feedback scores and seller rating. Start your free trial today!
About eBay
Selling on eBay gives you direct access to 170 million active users in nearly 200 countries — many of whom buy online exclusively from eBay. There's simply no better way to expand your sales to new markets, extend your selling season, and move excess inventory than with eBay. KASERCORP started with eBay, and we couldn't be happier to support your success on this awesome platform.