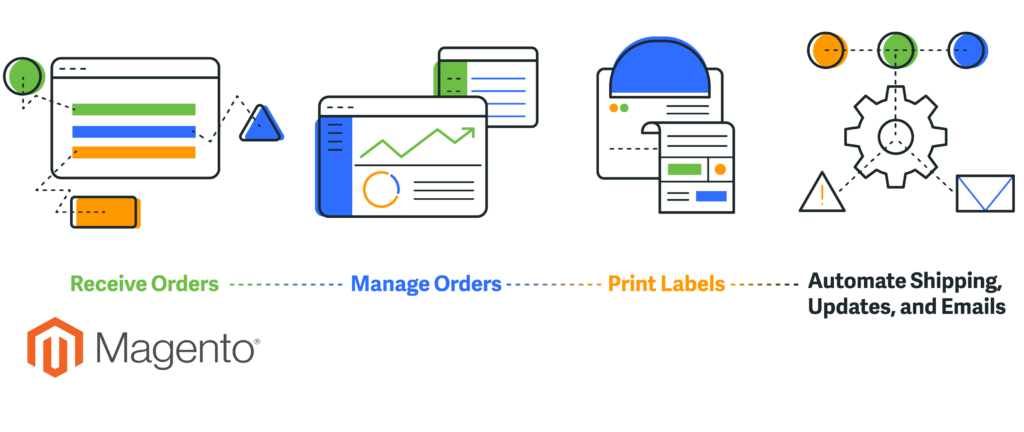 About Magento
Magento is the leading shopping cart provider for eCommerce sellers ranging from small businesses who want to launch a flexible and customizable cart to enterprise retailers who need to create a robust and scalable online store. With rich out of the box features and hundreds of add-ons, it is no wonder thousands of people use Magento to accept online orders.
Magento Features We Support
Sync Magento Orders
We'll import your Magento orders in a single click. All relevant order data will import, including product details, customer information, shipping data, and more. No more copying and pasting!
Multiple Stores
Do you have multiple Magento stores in a single account? Easily add your stores and organize your orders in ShipStation. Learn more in our help center here.
Seamless Magento Integration
KASERCORP has a deep integration with Magento that includes support for Magento Community, Enterprise, and we frequently release updates to our Magento plugin to enhance our integration.
Invoice after Shipping
Support for Magento's invoice after shipping feature.
In-Cart Delivery Options
Display and adjust live or preset shipping rates at checkout.
Automatically update Shipping Info
Once you create a shipping label in KASERCORP, the tracking data automatically updates back to Magento to keep your customer and e-commerce platform in sync.
Shipping Info Customizable Shipping Confirmation Email
Want to personalize the shipping confirmation email? Use KASERCORP's easy editor to create an email that matches your company's brand and personality.
Manage Magento Shipping Anywhere 
KASERCORP is web-based and mobile compatible so that no matter where you're at, you can get ship done.
KASERCORP ♥ Magento
Whether you are a small business or a multi-million dollar enterprise with its own fully custom installation, Magento is there to help you build and scale your eCommerce business. KASERCORP makes Magento order management and shipping easier than ever. By connecting your Magento store to KASERCORP, you can compare shipping options, create and print Magento shipping labels, improve order management, and streamline order fulfillment. We're here to help you ship out all those orders from Magento (and any other platform on which you sell) to make shipping and fulfilling as easy as it can be, while saving you both time and money! Want to learn more about our Magento shipping extension? Check out the stories from some of our users whose businesses have taken off since integrating KASERCORP with their Magento store!