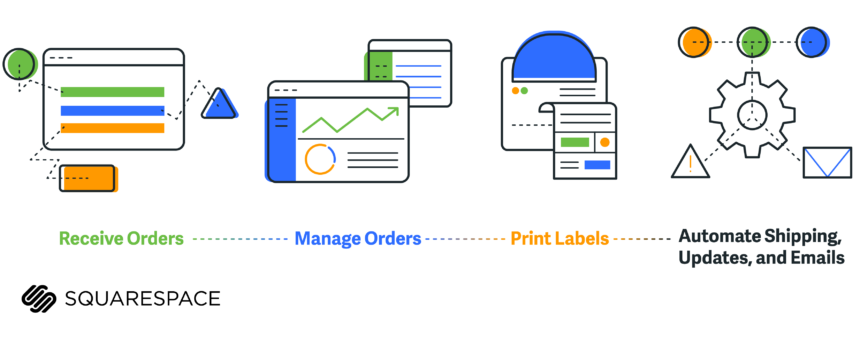 KASERCORP ♥ SQUARESPACE
Shipping and fulfillment of online orders for your Squarespace store is easier than ever with KASERCORP's Squarespace shipping integration. With so many different Squarespace shipping options to choose from, we made sure to load our integration with powerful shipping automation features that easily sync with your Squarespace account, allowing you to ship and manage your Squarespace order fulfillment in minutes! From linking your Squarespace store to your KASERCORP account, to creating Squarespace shipping labels, online sellers can create a beautiful store and save both time and money managing and processing orders through KASERCORP's Squarespace shipping integration!
Squarespace Features We Support
As a Squarespace partner, KASERCORP software is fully integrated to create a seamless experience that will save merchants tons of time shipping on Squarespace. We collaborated directly to ensure that our integration with Squarespace is seamless and fully supported, without any third party add-ons required.
Order Sync
Import Squarespace orders into KASERCORP, along with full recipient and product info with the click of a button.
Customer Shipping Preference
We'll let you know what the customer chose for their preferred shipping method.
Shipped Status & Tracking Number Updates
When you ship your orders through KASERCORP, your orders in Squarespace will automatically move to 'completed' and have the tracking number right in your confirmation e-mails.
Insights and Reporting
KASERCORP offers quick and detailed insights on your Squarespace orders through advanced reporting.
Manage Squarespace Orders Anywhere
Because KASERCORP is a web-based and mobile compatible platform, you can import, manage, and ship your Squarespace orders no matter where you are.
About Squarespace
Squarespace is a beautiful all-in-one website publishing platform, featuring a completely integrated commerce solution for selling online. Known for its sophisticated yet easy-to-use interfaces, Squarespace's do-it-yourself tools allow creative professionals, businesses, bloggers, and web developers to quickly and easily create and maintain professional, high-quality websites and eCommerce stores. Squarespace's all-in-one service includes beautiful templates, content management, hosting, domains, social integrations, and 24/7 live support, so your online store is always open for business.
Check out the video below for more information about integrating KASERCORP with Squarespace for eCommerce shipping and order fulfillment.